The
Chuckanut Conservancy
is dedicated to the protection and restoration of the unique wildlands in the Chuckanuts-to-Cascades region of Northwest Washington.
For lively articles, tidbits and current happenings around the Chuckanuts, please check out our new Blog!
Currently, we are actively working to secure protection for all or most of Blanchard Mountain, a rare example of a large and relatively intact coastal forest. In fact, Blanchard and the Chuckanuts represent the largest remaining block of maturing, publicly owned forest on the entire eastern shore of the greater Puget Sound.
To learn more about what makes this place so unique, please visit the links to the left.
Lily and Lizard Lakes Trail:
The DNR wants to log more than a mile
of this major trail (among others) within
Blanchard Mountain's roadless area.

Friends and Allies:
- Sierra Club, Mount Baker Group
- N. Cascades Conservation Council
- North Cascades Audubon Society
- People for Puget Sound
- Coast Watch Society
- Bellingham Mountaineers
- Chuckanut Mountains Park District
- Wildlife Conservation Trust
- Add your organization here!
Email us:
The "North Cascades corridor" is the continuous
belt of green hills that extend southwestward from
snow-covered Mount Baker (right-center) to the
Chuckanut Range and Samish Bay
____________
Chuckanut, our new quarterly
newsletter, is now available online!
____________
To sign our petition to Commissioner Goldmark, click on "Take Action"
Donate $50 or more to the Conservancy and we'll send you a free copy of Trails of the Chuckanut Mountains by Skookum Peak Press (2008).

Summer two-for-one special: donate $12.50 (or more) and we'll send you two maps! We'll pay the tax and the postage (U.S.). Use the donate button above or mail a check or money order to:
Chuckanut Conservancy
PO Box 4003, Bellingham WA 98227.
Here's our strategy: Since word-of-mouth is such a great way to advertise, we thought we'd try to put more of these great maps in more people's hands so that you can help spread the word about this important cause. This great offer expires on the summer solstice (or while quantities last). Every donation helps save the Chuckanuts.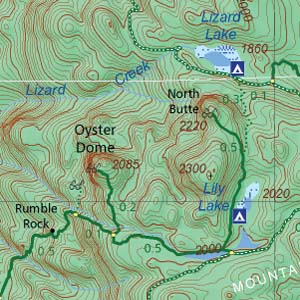 This highly detailed map includes Blanchard Mountain, Larrabee State Park and more than 80 miles of trails, plus trailheads, topography, lakes, views, area parks and more
(18"x24" on rainproof paper); $11.95 value.

Click the Donate button above (upper left) or mail your donation to:

Chuckanut Conservancy
PO Box 4003
Bellingham, WA 98227

____________

Join us on the trail!

Sign up for our new


Spring has sprung and we need volunteers to help us maintain trails, build a few critical links, and assist with several restoration projects in the Chuckanut Mountains. If you would like to join our volunteer crew or learn more, visit our Hikes and Events page, or just sign up now. If you aren't ready to sign up for a specific project, you can still join our volunteers email list.


____________

Spring Hikes
&amp Events Calendar


Check out our calendar of events, including educational walks and hikes in the Chuckanut Mountains. Scientists, educators, photographers and other experts will offer easy to moderate tours, while sharing their insights on the native plants and wildlife of the Chuckanuts, as well as the area's highly curious geology and colorful human history. Or just sign up. First-come-first-served, with a nominal donation requested.

____________

"When we see land as a community to which we belong, we may begin to use it with love and respect."
—Aldo Leopold